As we move towards 2024, the world of beauty is constantly evolving and changing. In order to stay ahead of the game, it's important to keep up with the latest trends and techniques. Whether you're a makeup artist or enthusiast or simply looking to switch up your routine.
From bold and bright colours to sustainable and ethical beauty, there are so many exciting trends to explore for the rest of the year & into 2024.
Bold and Bright Colours


Bold and bright colors are all the rage in the makeup world right now. From neon eyeshadows to vibrant lipsticks, these colors can add a fun and playful element to any look.
To incorporate this trend into your everyday makeup routine, start by choosing one bold color to focus on. For example, if you want to try a bold lip, pair it with neutral eyes and a subtle blush. Or, if you're feeling daring, experiment with a bright eyeshadow look by blending two or three different shades together.
Remember, the key to pulling off bold and bright colors is confidence. Don't be afraid to stand out and make a statement with your makeup!
Sustainable and Ethical Beauty
Sustainable and ethical beauty is a growing trend in the makeup industry. Consumers are becoming more aware of the impact their beauty products have on the environment and animals, and are seeking out eco-friendly and cruelty-free options. Brands are also responding to this demand by creating products that are sustainably sourced and produced.
Using sustainable and ethical beauty products not only benefits the planet and animals, but it can also benefit your skin. Many of these products contain natural and nourishing ingredients that can improve the health and appearance of your skin. By choosing these products, you can feel good about what you're putting on your skin and the impact it has on the world around you.
Natural Glowing Skin
Achieving natural, glowing skin is a popular trend in the beauty industry. This look can be achieved through a combination of skincare and makeup techniques. The first step is to establish a consistent skincare routine that includes cleansing, toning, and moisturizing.
Exfoliating once or twice a week can also help to remove dead skin cells and reveal brighter, smoother skin, especially if you what to use light reflecting or pearlescent highlighters in your makeup routine.
When it comes to makeup, the extreme highlight trend is behind us, Subtle, lit from within / I've just done a yoga class glow if the way forward. Opt for soft focus, sheer highlighter's that make the skin shine rather than anything super shimmery.
Using a brightening or glow primer before applying foundation can help to create a smooth base & glow for your products. Opt for a lightweight, dewy foundation and add a touch of highlighter to your cheekbones only for a soft radiant glow.
Another quick way to add glow to your skin is by using a Glow setting spray, I'm obsessed with the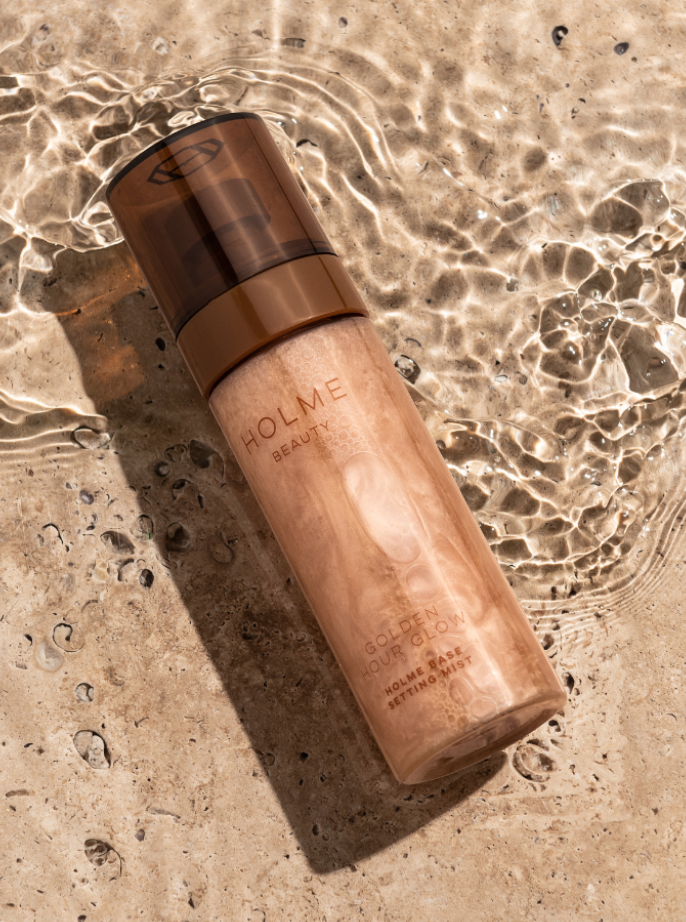 Holme beauty setting spray.  "Rich in skin-loving ingredients including Hyaluronic Acid, Kakadu Plum and Radicare Gold, this vegan and cruelty free formula keeps the skin hydrated, the skin tone bright, and the complexion looking fresh and youthful. With each application, skin health is heightened" (except taken from holmebeauty.com)
Graphic Eyeliner
Graphic eyeliner is a bold and daring trend that has taken the makeup world by storm. From thick, dramatic lines to intricate designs, there are countless ways to incorporate this trend into your makeup routine. Winged eyeliner which has been reinvented with every generation, basic winged liner  involves extending the liner outwards towards the end of the eye to help elongate and widen the eye.
We are seeing a lot of 60's inspired eyeliner looks in fashion at the moment. I recently created this graphic eyeliner look for the latest Johanna Johnson Campaign.
Another fun way to experiment with graphic eyeliner is by using bright and bold colors. Try incorporating neon shades or metallic hues for an edgy and modern twist on this classic trend. No matter what style you choose, graphic eyeliner is sure to make a statement and elevate any makeup look.
To create this look I mapped out the shape with a soft eyeliner pencil and the used my trusty MAC gel pot eyeliner in Blacktrack & traced back over it. When creating this look on yourself try using a fine tip eyeliner pen for easier control & precision.
All that makeup is a form of self-expression. It's a way to showcase your personality and individuality to the world. Don't be afraid to try new things and step out of your comfort zone. Embrace your unique style and let it shine through your makeup looks!
Nicola xx
NO COMMENTS