It was such an honour to be asked by Womans Weekly magazine to do 4 beauty makeovers for 4 very deserving readers. Alongside hairstylist Sarah Laidlaw we worked through the 4 age groups offering our tricks of the trade to get the most out of your features.
Check out the editorial here and my makeup recommendations for each age group
Rebecca – 30's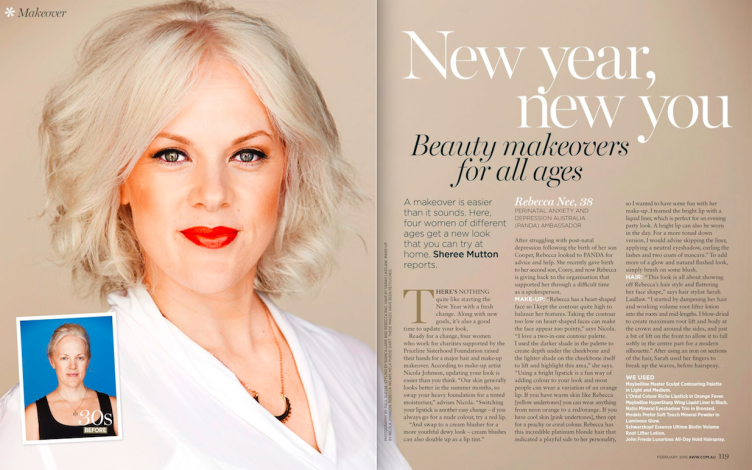 Contouring is an excellent technique used to shape & define features of the face; most commonly used to enhance your cheekbones. The trick to remember when contouring is that using light colours (ie your highlighter) will bring features forward & darker colours (your contour colour) will push features back. For example if you have a large forehead you could use the darker shade around the hairline to 'push back' the area creating the illusion of a smaller face.
I love the Maybelline Master Sculpt Contouring Palette Light Medium as it has both products in one. I used the darker shade in the palette to create depth under the cheekbone and the lighter shade on the cheekbone itself to lift and highlight this area. Rebecca has a heart shaped face so I kept the contour quite high to balance her features, taking the contour too low on heart shaped faces can make the face appear too pointy.
Now that summer is here using a bright lipstick is a fun way of adding colour to your look & most people can wear a variation of an orange lip. If you have warm skin like Rebecca (yellow undertones) you can wear anything from neon orange to a red/orange.   If you have cool skin (pink undertones) then opt for a more peachy or coral colour. Rebecca has this incredible platinum blonde hair that indicated a playful side to her personality so I wanted to have some fun with her makeup. I teamed the bright lip with a liquid winged liner, which is perfect for an evening party look. A bright lip can also be worn in the day, for a more toned down version I would advise skipping the liner, applying a neutral eye shadow, curling the lashes and 2 coats of mascara.
Irene – 40's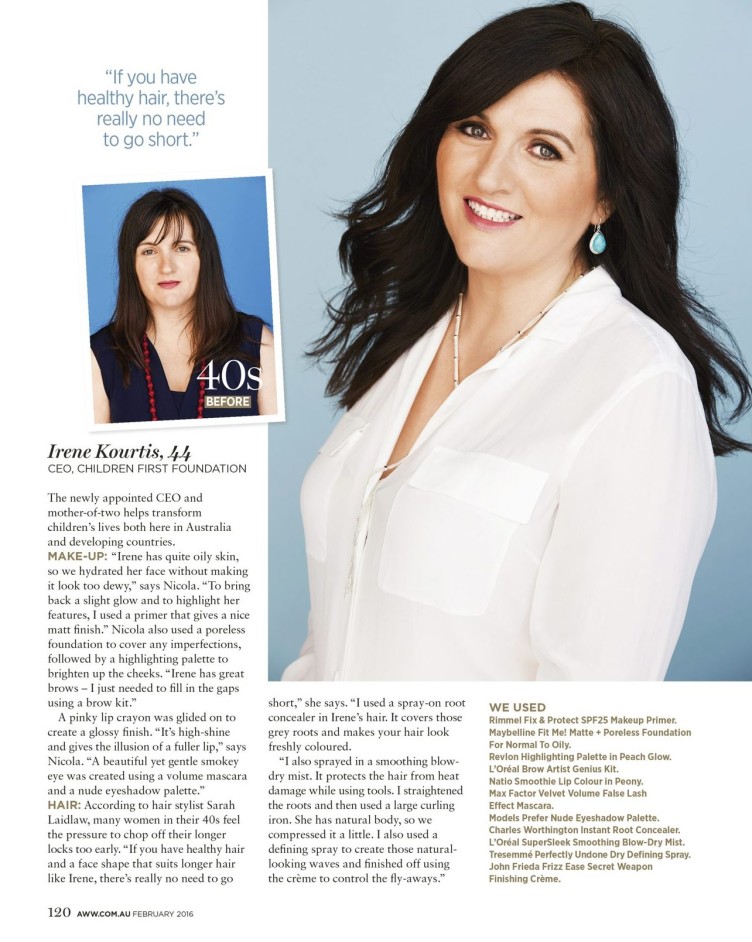 Changing your makeup routine is easier than you think, coming from winter to summer your skin needs different makeup. Our skin generally looks better in the summer months so swap out your heavy foundation for a lighter coverage or even a tinted moisturizer. Thick powdery foundations will age you, if you want a more youthful glow opt for a sheer dewy finish like the Models prefer Aragn foundation.
Switching your lipstick is another easy way to update your look, if you always go for a nude colour try a red lip. If the thought of a bright lip terrifies you, start by applying the colour with your fingertip, pressing it onto your lips like a stain – creating a wash of the colour, then as you get use to the bright colour build up the intensity – you will be rocking a red lip in no time.
Most women will be used to wearing powder blushes, which again can be ageing on the skin accentuating fine lines. Switch to a cream blusher for a more youthful dewy look, cream blushes can also double up as a lip tint!
Julie – 50's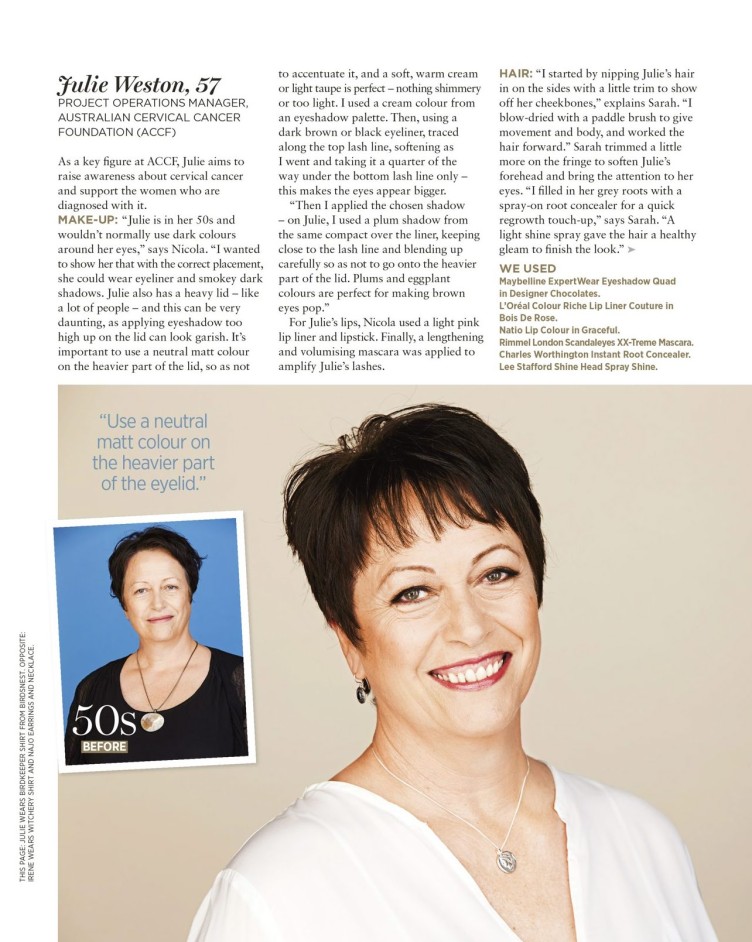 Julie is in her 50's and wouldn't normally use dark colours around her eyes; I wanted to show her that with the correct placement she could wear eyeliner & smoky dark shadows. Julie also has, like a lot of people a heavy lid – this can be very daunting as applying eye shadow too high up on the lid can look garish. It's important to use a neutral matt colour on the heavier part of the lid, as not to accentuate it, a soft warm cream or light taupe is perfect nothing shimmery or too light. I used the cream 'base' colour from the 'Maybelline Expert Wear Eyeshadow Quad' in  'Designer Chocolates' – (cleverly labeled you know where to place them) Then using a dark brown or black eyeliner, trace along the top lash line softening as you go & taking it ¼ of the way under the bottom lash line only – this will make the eyes appear bigger. Apply your chosen shadow – on Julie I used the plum shadow (labeled 'crease') from the same compact over the liner keeping close to the lash liner & blending up carefully as not to go onto the heavier part of the lid. Plums & eggplants colours are perfect for making brown eyes pop.
Helen 60's/70's
As we get into our 50's & 60's our skin looses elasticity and our complexions start to fade and can become sallow & lackluster. Always use a hydrating moisturizer and spend time massaging it into your skin. This will stimulation circulation and flood the skin with oxygen rich blood instantly plumping the skin. Use a tinted moisturizer or hydrating foundation designed for mature skin. Look out for serum foundations – they contain collagen boosting ingredients, acting a skin treatments as well as a foundation.
To give the illusion of thicker lashes apply a matte black or brown eyeliner at the base of the top lash line, always curl lashes if you can and choose a thickening & plumping mascara.
Lips become thinner & loose definition – Use a lip liner to reshape the lips, you can take the lip liner outside the natural edge of the lip but make sure it's a similar colour to your lipstick and well blended. Corals & sheer reds look fantastic on women In their 50's 60's avoid matte colours as they will make the lips appear smaller. Pale pinks & lilacs can also wash you out so avoid those too.
SMA xx
Photography // Paul Suesse
Styling // Rebecca Rae
Hair // Sarah Laidlaw
Makeup // Nicola Johnson
NO COMMENTS