A
perfect red lip
can be pretty tricky to nail, even as an accomplished makeup artist we occasionally have an unsteady hand. They say a good workman never blames his tools – but I say when you have 20 red lips to do in zero time during fashion week, anything that you can do to make it easier is a welcome blessing!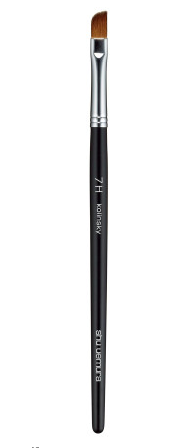 I have use a lot of lip brushes in my time as a make artist, recently I came across the Shu Uemura lip brush, (thanks to a fellow makeup artist) – The Kolinsky 7h – A medium, flat-headed brush made with soft yet firm bristles. Perfect for outlining the lip, It can also can also be used for eyeliner, but I would keep one for lips and one for eyes
You can use the round part of the brush to create the perfect shape of the cupids bow – line up the curved edge of the brush with the peak of the cupids bow and then, press the brush to the lip and pull down applying the colour to one side of the cupids bow. Then flip the brush around and repeat on the other side. You can then use the flat part of the brush to do the sides and bottom lip.  I am now in perfect lipstick heaven! woo hoo!
It does come with a pretty pricey tag, Currently $90 at David Jones, This has actually increased in price, I'm pretty sure when i purchased mine it was only $60, it may be cheaper to buy overseas and ship it out unfortunately! 🙁
NO COMMENTS